Bazm-e-Minhaj
The College is sensitive to the need of Co-curricular activities along with academic events, which are of immense importance for the development of healthy and balanced minds of its students. The establishment of societies and clubs assures assistance to students at the initial stages to help them prepare for practical life. The College in so doing formulates activities that promote and enhance communication skills and intellectual capabilities among the students. Students who are outstanding academically and are willing to share their knowledge for the betterment of their fellow students represent these societies.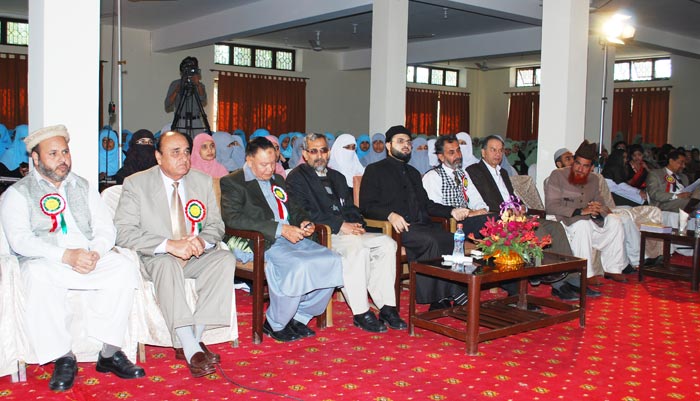 Bazm-e-Minhaj
Bazm-e-Minhaj consists of a small group of highly dedicated, self-motivated, and creative majors and minors who are committed to organizing and hosting a wide range of events to promote co-curricular activities.
It is the main organizing body of the students that supervises all the societies, arranges healthy co-curricular activities, welcome and farewell parties for coming and outgoing students. Religious and cultural festivals are also arranged by this body. Bazm-e-Minhaj plays both academic and administrative role in the College activities.
The following societies in the College arrange curricular and co-curricular activities and assist Bazm-e-Minhaj and students' counsellor:
Islamic Literary Society
This Society is committed to promote a sound understanding of Islam in a contemporary context. Na't and Qira't Competitions and Islamic Declamations and Quiz are conducted under this society at national level. Except this the Society celebrates different Islamic functions to promote Islamic culture and Love for Allah and His Prophet (S.A.W.)
English Literary Society
The Society organizes different symposiums and lectures on literature in which literary intellectuals from across the country are invited. The Society also organizes various inter-and intra-colleges competitions, like poetry reading, recitation, debates, speeches and quiz competitions. It holds critical sittings to sharpen the literary skills of the students.
Urdu Literary Society
Under this society the students prepare and participate in different competitions at national level. Collegiate level and University level competition are arranged in College as well to promote literary activities among the students.
Sports Society
As a healthy body resides in a healthy body so this Society pays special attention to games and sports in order to save the students from fatigue and monotony. Students are encouraged to participate in the afternoon games and sports.
Welfare society
SWB forums
Sister concession
Fee Concession
Scholar ship.
MCW Forums
Naat forum
To polish and groom hidden talent of the student's na'at forum has been organized by Bazm-e-Minhaj. This forum teaches the students the way for the recitation of na'at shrif and prepares the students to participate in different competitions and also for practical field.
Speaker's forum
To build the confidence in the students and to increase their communication skills, speaker's forum has been organized under the supervision of Bazm-e-Minhaj. Students through out the college participate and learn the skills of debate and speech.
Writer's forum
Writer's forum has also been organized under the humble authroty of Bazm-e-Minhaj. Students learn art and skills of writing such as article writing, biography, autobiographies etc.
Creative Activities
College magazine
Parwaz is an annual College magazine. It is full of information, instruction, recreation and education for both young and old readers. This magazine is a reflection of our commitment to preparing the future generations for tackling the challenges of practical life.
The magazine is published in four languages: Urdu, English, Arabic and Punjabi. It consists of articles on different aspects of Islam, cultural values, poems and role model women of Islam.
Awards
Students are awarded for their outstanding performance regarding creativity.
Best Student Award
Best Student Award goes to the one with:
100% attendance in the class
The best conduct
The best performance in the class.
Best in any Co-curricular activity.
Certificates of merit /distinction
Certificates of merit/distinction go to such students as are position-holders or office-bearers of the Bazm.